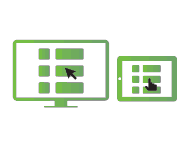 ORDER PROCESS
Placing an Order – recurring or one off
1. Select a category or use the explore feature to select from our service categories
2. Enter your postcode for delivery
3. Select the most appropriate service provider
4. Place your order
a) Recurring order or one off order: Prior to placing an order you will be prompted on whether or not you would like this order to recur. This is particularly useful for service goods such as milk, fruit boxes, fresh flowers, pantry supplies, etc. you can select the days on which you would like to order to recur. Each day can be edited with different order sizes if needed.
a) Allocating order items to a particular floor or delivery point: During the ordering process you can allocate a portion of your order to a particular floor or kitchenette via the order summary docket on the right hand side. This is particularly useful when ordering milk or fruit boxes for your company.
b) Ordering from multiple suppliers in the same order: maybe you love the sandwiches from one of our catering partners and the cupcakes from another. As long as you meet the minimum order size for each of the suppliers, you're free to order from multiple suppliers in the same order.
5. Review your order and make customised item requests if needed
6. Enter your delivery delivery details and order-specific information such as PO number, or department IDs
7. Finalise your order
8. Confirmation is sent to your email for approval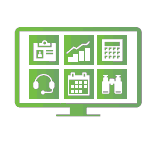 MY ACCOUNT AREA
Edit company info
Once logged in, you're able to edit your company details, passwords, and email addresses. You can also set whether you'd like to receive confirmations for your orders or not.
Refer colleagues to the system
Refer colleagues into the system using our refer a colleague feature.
Recurring orders
Once you have placed a recurring order such as fruit boxes or fresh flowers for your office, you can log in at any time to make changes to that order. These changes include:
Permanent changes- a permanent change to the recurring order. This may be a new item you want to add to the order or you may want to increase or decrease the amount in the order due to staff numbers going up or down.
One off changes- these allow you to make a one off change to the order for a specific delivery. After the change occurs, the order reverts back to the original recurring order.
Skip orders: there may be situations where you'd like to skip an order for some reason. N.B This is done automatically for you on public holidays.
Delete or suspend orders: you are able to delete or suspend an order if required. Suspended orders can be resumed whenever you wish./
View past orders/invoices
You can log in at any time to view orders you've placed and copy those orders if required. Invoices are also available to view or download should you need to view or find an invoice.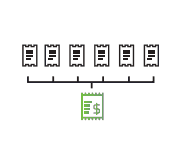 SINGLE INVOICE SOLUTION
All invoices generated from orders made by anyone at your company can be streamlined to a single invoice based on any of the requirements you may have. Invoices can be summarised based on user, service received, department, or company-wide. These summarised invoices can be set to send weekly, bi-monthly or monthly.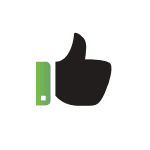 ADMINISTRATORS
Company administrators can assign permissions to fellow staff members who are approved to order for the office. This ensures greater control on spend and transparency in the ordering process.